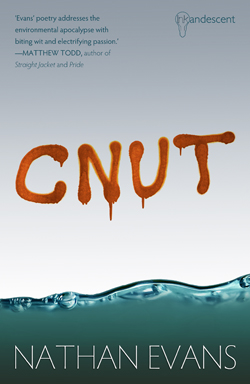 CNUT
poetry collection

As King Cnut proved, tide and time wait for no man: An AnthropoScene, the first part of this collection, dives into the rising tides of geo-political change, the second, Our Future Is Now Downloading, explores sea-changes of more personal natures.

'CNUT addresses vital issues of our time, such as the climate crisis, with biting wit, seething passion & electrifying skill' - MATTHEW TODD, author of Straight Jacket & Pride

Nathan's debut, Threads, was longlisted for the Polari First Book Prize. His follow-up bears all the watermarks of someone who's swum life's emotional spectrum. Some poems barely contain their righteous anger within their visceral verse. The old are eating the young / in great Goya gobfuls. Others like What the Cat Dragged Back wryly examine subtler sentiments - in response to your partner picking up a lover for you to share, for instance.

'CNUT is a universal backyard collection of the urban/urbane reimagined, of the domestic/fantastic retold, of the ravishingly re-readable' - GERRY POTTER

Short and (bitter)sweet, this is poetry for a mobile generation, poetry for sharing -often humorous, always honest about contemporary human experience, saying more in a few lines than politicians say in volumes, it offers an antidote to modern living.

'CNUT is a kaleidoscopic journey through shifting landscapes, brimming with vivid imagery, playfulness and warmth - a truly powerful work!' - KEITH JARRETT

CNUT is published by Inkandescent November 7th. It is available in paperback from bookshops including Gay's The Word and from Amazon. It is also available on Kindle.