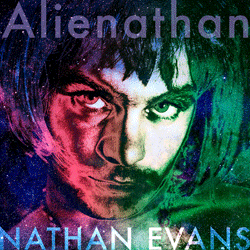 ALIENATHAN
album

In 1999, Nathan began recording Alienathan. On a four-track Tascam. In his bedroom. Twenty years from its completion, he releases the album for the first time in a redux twenty-track version.

From the acidic electronic title track to its pop pastiche finale I Wanna Be A Gay Boy, Alienathan takes the listener on a dramatic galactic journey via the comically jazzy Suspended Animation and the spoken word symphonics of And Transfiguration.

This is queer electronica with classical overtones, Nathan playing (almost) all instruments. Such an eclectic mix of oboes and synths cannot have been heard since the early days of Roxy Music. Other influences include 90s pioneers Bjork, Massive Attack, PJ Harvey.

Lyrically it explores sexuality, identity, class, capitalism. There's also a fair helping of twenty-something navel-gazing. Tempered by forty-something experience, with judicious editing.

The original tapes have been dusted and digitized, tracks recorded or rerecorded in later years incorporated, overdubs added, songs reordered, the album's essence restored, reimagined and redelivered.